[ad_1]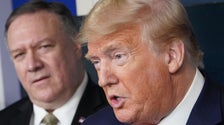 Former President Donald Trump told Secretary of State Mike Pompeo to "shut your mouth" about China and COVID so as not to anger Chinese President Xi Jinping, Pompeo reportedly recounted in a forthcoming book about his stint in the Trump administration.
It's a startling revelation about Trump, who usually seems to take every opportunity to criticize China.
But Trump wasn't happy after Pompeo told leaders at the Group of Seven summit in March 2020 that China was to blame for COVID-19 and the disease should be called the 'Wuhan virus', reportedly wrote. Pompeo in his memoir, 'Never Give an Inch,' due out next week. He believes China has 'repeatedly delayed' data sharing and spread misinformation about the disease, according to excerpts from the book obtained by Semafor.
Trump was apparently worried because Xi had warned him in a phone call the next day that Pompeo's attack jeopardized the China-US 'phase one' trade deal, according to excerpts from the Semafor book.
"My Mike, that fucking guy hates you!" Trump said of Xi, says Pompeo.
Trump was also reportedly concerned that the United States was dependent on China for medical supplies. He accused Pompeo of "putting us all at risk" by opposing Xi, according to the published excerpts.
"Stop, for God's sake! Trump told Pompeo, according to excerpts from the book.
Pompeo said he kept quiet about China after that.
"We needed sanitary equipment and we were at the CCP [Chinese Communist Party's] pity for that," Pompeo said in his book. "I worked for the president and would bide my time."
In fact, however, the US State Department shipped 17.8 tons of donated coronavirus medical supplies to China in February 2020, as health experts and some US lawmakers were already seeking federal action to prepare states. United to the growing pandemic. The massive shipment to China included medical masks, gowns and respirators, which were desperately short across America at the end of March.
Trump has spent months thanking Xi for the dictator's transparency and cooperation during the pandemic. But then he moved on to vilify Xi and China over the disease – and quickly called COVID the "Wuhan virus", the "China virus" or the racist "Kung flu".
The former president continues to attack China for its rise to power. He told the New York Post of media mogul Rupert Murdoch earlier this week that if he becomes president again, he would enact "aggressive new restrictions on Chinese ownership of any vital infrastructure in the United States."


[ad_2]
Source