Snapchat has become the first social media giant to integrate a ChatGPT-powered chatbot into its app, with the messaging platform calling its new feature "My AI".
According to Snap, the new chatbot runs the latest version of OpenAI's GPT technology (its GPT-3.5 model) and is an "experimental feature" to pay Snapchat Plus subscribers (a service that costs $3.99/$3.99 £ / AU$5.99 per month).
So what can he do? Given the many recent examples of Microsoft's ChatGPT-powered Bing search engine slipping, Snap has wisely implemented safeguards by training it to "avoid biased, incorrect, harmful, or misleading information." It is also mainly designed to help you organize your social life and boost your Snapchat game.
Here are some examples of things My AI can help you plan your hike, recommend birthday gift ideas, suggest dinner recipes, and, for Japanese verse fans, "write a cheese haiku for your obsessed buddy. by the cheddar". It all certainly feels a bit more family-friendly than watching Bing have an existential crisis.
Yet Snap is also preparing for mistakes and has already apologized in advance. (opens in a new tab) for my AI's own clangers. He says that "My AI is prone to hallucinations and can be tricked into saying just about anything", which sounds worrying. Snap also tells users to "please be aware of its many shortcomings and sorry in advance" for any potential mistakes.
Unlike Bing's ChatGPT-powered chatbot, My AI is customizable – you can give it a name and also customize the wallpaper for your chat sessions. But, despite that cuddly exterior, the AI ​​assistant is likely to get it wrong – with Snap indicating that you can press and hold any post to submit feedback and help guide it towards better behavior.
---
Analysis: A taste of social chatbots to come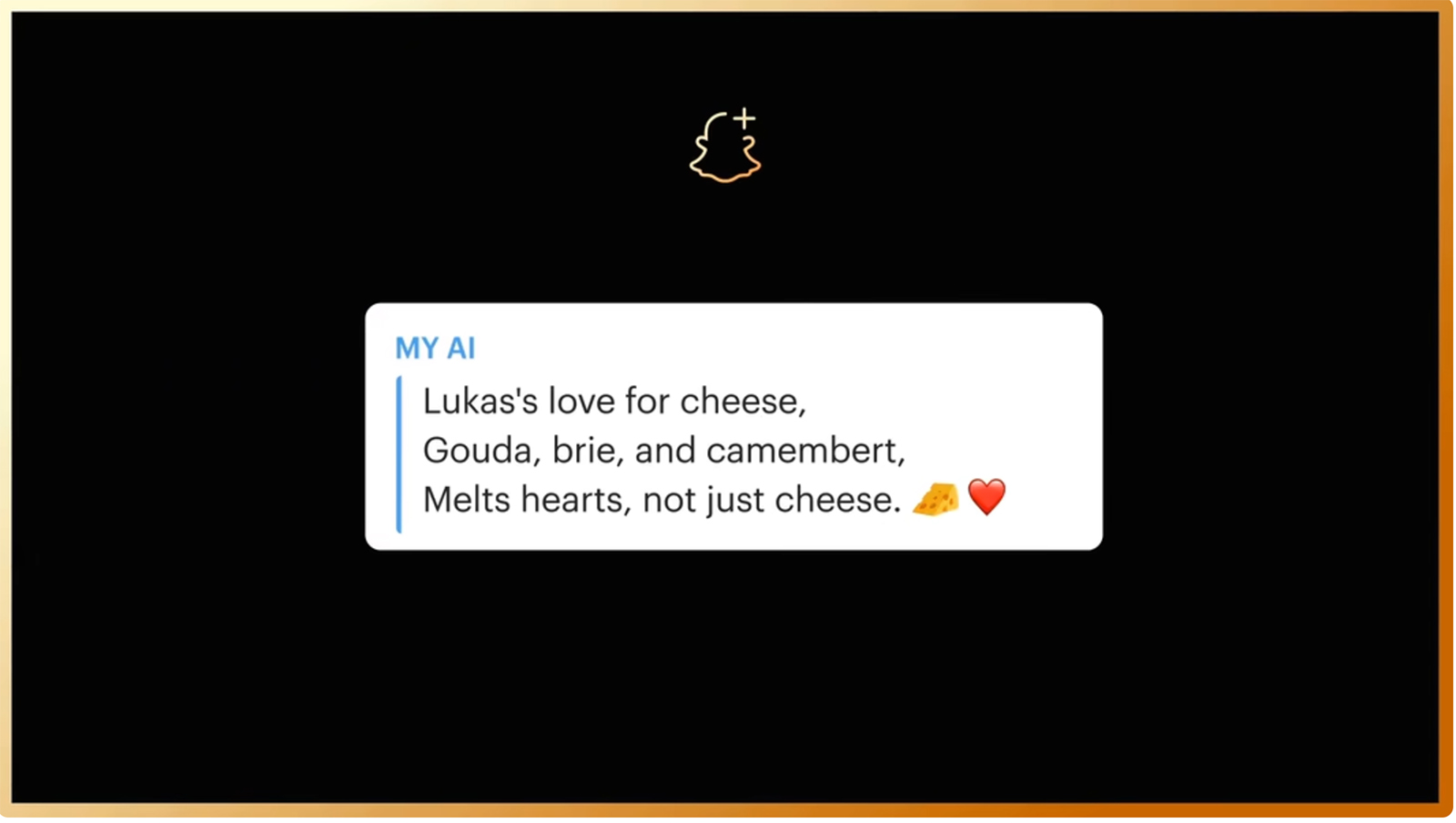 The arrival of a ChatGPT-powered assistant on Snapchat isn't as earth-shattering as an equivalent feature would be on Facebook, WhatsApp, Instagram or TikTok – after all, Snapchat is only tenth on the social media list of Site (s (opens in a new tab) in terms of global active users.
But it does give us some interesting insight into how ChatGPT (or equivalent chatbot technology) could be integrated into some of the world's most popular apps. Imagine, for example, an equivalent sidekick in Facebook Messenger or WhatsApp groups. Meta recently announced (opens in a new tab) its own "big state-of-the-art AI language model called LLaMA", so it just might happen.
The arrival of chatbots in social media and messaging apps also raises privacy concerns. Snap would like to emphasize that "all conversations with My AI will be stored and may be reviewed to improve the product experience", and you should not "share secrets with My AI" or "rely on it for advice". .
These are all great disclaimers that show where we're at with AI chatbots – while they're fun sidekicks that might work well in the likes of Snapchat, they're also a far cry from the all-knowing sages they claim be.