[ad_1]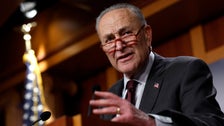 Biden tapped Phillip Washington, the current CEO of Denver International Airport, to lead the transportation agency in July, but he has yet to receive a Senate confirmation hearing. The FAA has not had a permanent head since March, when Stephen Dickson, the former administrator appointed by Donald Trump, left halfway through his five-year term.
The president resubmitted Washington as his pick earlier this month.
"It's time to clear the way for President Biden's choice for FAA Administrator Phil Washington," Schumer said at a press conference on Sunday. "With recent events, including the airline issues and last week's technical issue, this agency needs a Senate-confirmed leader immediately."
The Majority Leader went on to say that he intended to break a "blockage" and allow Washington to "detail its experience and answer questions" before lawmakers. If Washington is ultimately confirmed, he would be the FAA's first permanent black administrator.
Republicans criticized the choice, saying Washington lacked experience while worrying about a criminal search last September that nominated him. The warrant relates to an investigation into the Los Angeles Metropolitan Transit Authority and how it awarded contracts while Washington was the agency's CEO. There were no formal allegations of wrongdoing.


[ad_2]
Source