Chips, flakes, puffs, squares, O's: Cereals come in all shapes and sizes and have been an American breakfast staple for decades.
Of course, today's market is dominated by brands like Cheerios and Cap'n Crunch, which seem to bless our bowls with new adaptations every week. But, many others have also passed through the crowded corridors of the grain industry at one time or another, introducing new names, mascots and tastes (or just repackaged tastes) to hungry, breakfast-loving consumers. .
While there are plenty of those cereal blasts from the past that we would do anything to taste just one more time, there are a few that are best left as a distant memory – many make us we even wonder why someone ate, or for that matter created, them in the first place.
Read on to remember some of the most ill-advised cereals in our history, variants that should have been called "Uh-Oh's."
Nerd sweets really don't belong on the breakfast table. But, in the early 1980s, the Willy Wonka Candy Company reportedly disagreed. Nerds "Tiny Tangy Crunchy Sweetened Cereal" followed in the candy's footsteps and split its boxes into two completely separate sides with two different flavors. One divergent box included orange and cherry, while the other contained strawberry and grape flavored bits. Unsurprisingly, the candy cereal was immediately popular with kids, especially because the boxes also offered free goodies like Nerds collectible pins, fruit-scented markers, double-handled mugs, and more. In today's more health-conscious world, we doubt that this reconfiguration of candy into breakfast cereals would have even made it to the shelves.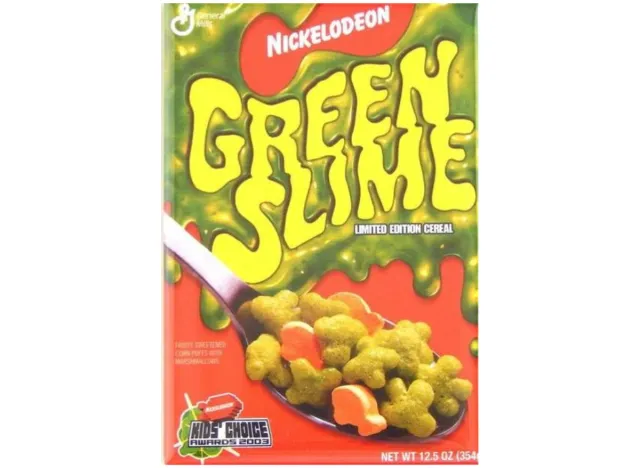 Nickelodeon had a bad habit of "slimming" everything and everyone in the early 2000s, especially during the famous Kids' Choice Awards. Unfortunately, the poisonous green stuff also started seeping into the breakfast. The network's Green Slime Cereal consisted of Green Blob Corn Blob Puffs and Orange Marshmallows, which were meant to resemble the Nickelodeon Airship logo and price tag. And, your assumptions are correct. The novelty cereal would turn the milk an unappetizing shade of green.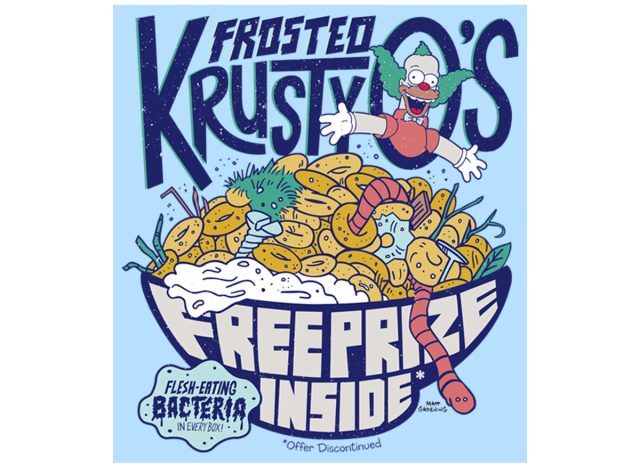 We know this cereal was named after a TV character The simpsons, but we don't touch any food described as "krusty", even if it's frosted. On the boxes, you could find Krusty the Clown holding a stirring bowl filled with worms, screws, and other identified items. The text also said "flesh-eating bacteria in every can" and "the best you could expect from a TV clown". Although the product also assured that there were in fact no dangerous metals or bits in the cereal and that it was in fact "sweetened multi-grain cereal with natural fruit flavors", we will pass all the same.
Adding fresh banana slices to your morning cereal is quite common and is a delicious combination. But, Wackies tried to take it a step further by throwing in sweet banana marshmallow pieces right with its uniquely shaped oatmeal cereal. Some consumers have taken a liking to it, comparing it more to a banana-flavored variant of Lucky Charms. But, buyers quickly grew tired of the undoubtedly artificial banana flavor and the cereal was discontinued after only a few years on the market.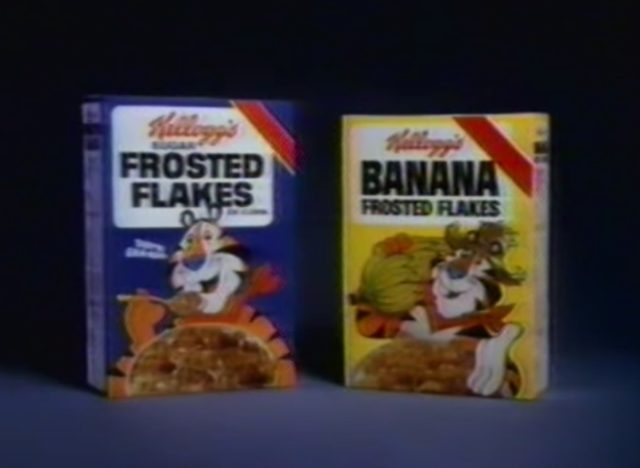 Still with the banana? Really? The banana version of one of America's favorite cereals first appeared in 1981, but has since joined the Frosted Flakes graveyard of failed flavors. The boxes dressed Tony the Tiger in a straw hat carrying a big bunch of bananas on his shoulder. And, as for the cereal itself, Kellogg's puffed each flake with small banana shards to achieve the desired flavor. Apparently, after a few years on the shelves, the cereal began to lose its "appeal". But, nearly 40 years later, in 2019, the company unveiled essentially the same product in new packaging called Banana Cream Frosted Flakes. Now that's bananas!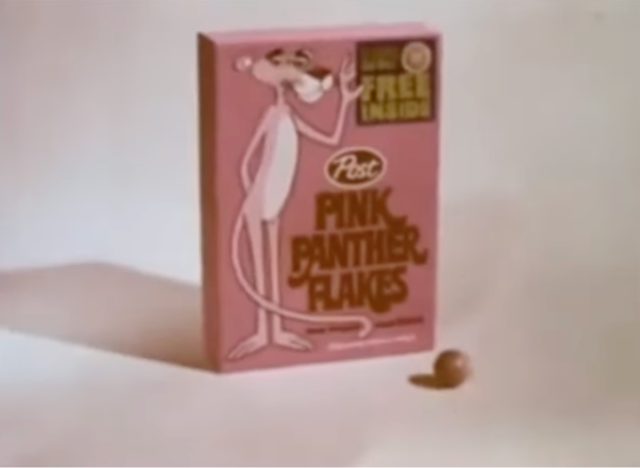 Perhaps Detective Jacques Clouseau can understand why this cereal was so adored in the 1970s. Post's Pink Panther Flakes looked just like you imagined: unnaturally shiny, candy pink, and coated in lots of sugar. It's also been said that the pink coloring will melt right into your milk just seconds after pouring it. It seems to us that this cereal was definitely not a pink diamond in the rough, and it has been discontinued since 1980.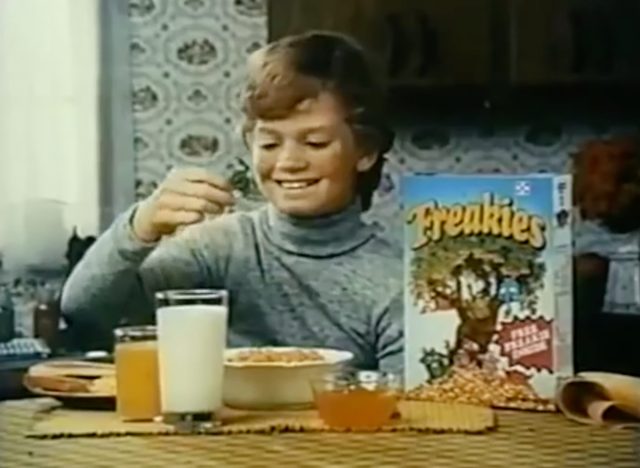 This cereal, made by Ralston, came with an army of outlandish and colorful creatures, each with their own personality. In early commercials, the group was in search of a magic tree that produces endless supplies of sugary cereal. Later, the company reintroduced the product, this time swapping out the original crunchy rings for spaceship-shaped brown pieces along with marshmallow bits. Unfortunately, the new, darker colored discs were more reminiscent of dry dog ​​food than anything else, for which the Ralston Purina company was also ironically well known.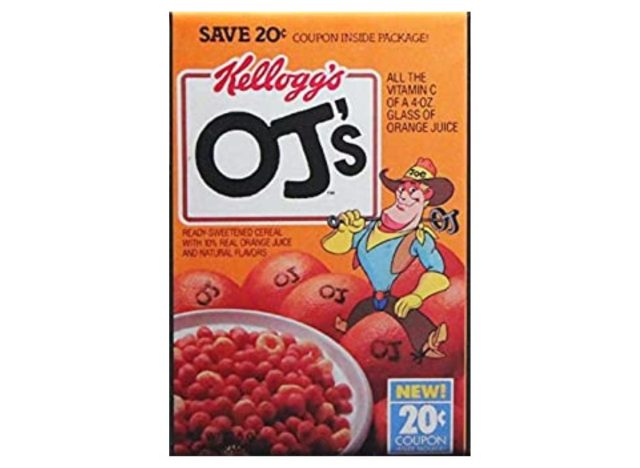 Orange juice is one of the most popular breakfast beverages and a great source of vitamin C. But most consumers want it in a side glass and not mixed directly into their cereal bowls. Unfortunately, Kellogg's did not receive this memo and the company's OJs were launched to the world in 1985. Real oranges could be seen on the front of the boxes with the cereal breeder's trusty mascot "OJ Joe" . It appeared to consist of both small spheres and ring-shaped pieces, and promised to deliver "All the vitamin C from a 4-ounce glass of orange juice."
Along with oranges, add grapes to the list of fruits that simply don't belong in breakfast cereals. Sir Grapefellow was a British World War I pilot and his product was described as "Grape Flavored Oat Cereal + Sweet Grape Starbits" (essentially little star-shaped marshmallows). When the cereal came out in the 1970s, General Mills simultaneously released Baron Von Redberry's German opponent – ​​Grapefellow who backed a berry version of the cereal. Sorry, Sir Grapefellow, we think Von Redberry may have won this round.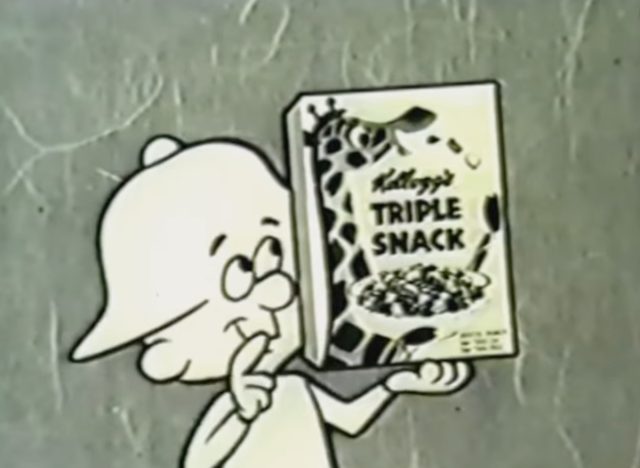 We think the peanuts are really what throws this one off. Kellogg's Triple Snack was released in 1964 and misplaced roasted peanuts combined with sugar popped corn and sugar popped wheat to form the cereal. The blue giraffe on the front of the box seems to like the mix, popping it straight into his mouth, but he may have been one of the cereal's only fans. To make matters worse, it was also often advertised with the message "Triple Snack will catch you if you're not careful". We're glad this menacing trail mix is ​​no longer a breakfast option.6254a4d1642c605c54bf1cab17d50f1e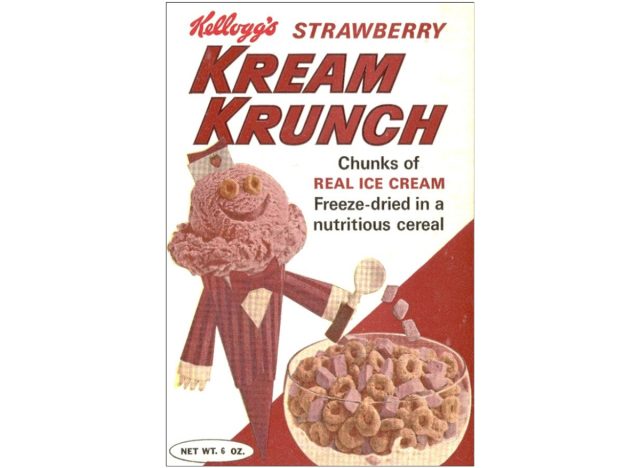 Forget the flavor or quality of it. The cereal's ice cream cone-headed mascot staring straight into your soul was probably enough to have shoppers running the other way without ever opening the box. But, for customers brave enough to peek inside, they would have found an unpleasant mix of ring-shaped chunks of oats and chunks of real freeze-dried ice cream – yes, you heard that right. . As if one variation of this atrocity wasn't enough, it also came in three different flavors, including vanilla, strawberry, and orange. Kellogg's pulled the dairy-based cereal just months after its release.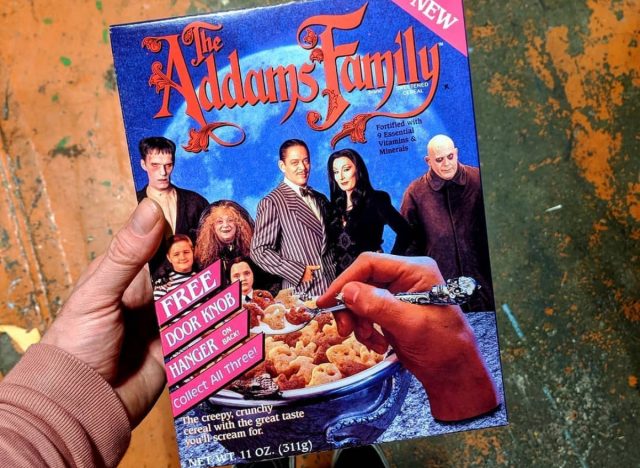 The recently aired TV show Wednesday unquestionably sparked renewed interest in the creepy Addams Family clan. But, the fictional family has been a US favorite since the original series debuted in 1964. So much so that the spooky group even earned a spot on the cereal shelf in 1991 with the premiere at all. the family's first feature film. Like the Addams Family, the cereal was definitely mysterious and spooky with skull-like bits, headless bodies, and the show's detached hand character called "Thing." But the scariest thing was the taste, which apparently left a lot to be desired. After the initial hype wore off, customers stopped picking up the ominous boxes and the Addams Family cereal was gone in the blink of an eye.