Windows 11 users have been supporting Microsoft desperately trying to get them to use the built-in Edge web browser for years (dating back to Windows 10), and now it seems it's iPhone users' turn to be bothered.
Like Windows Latest Reports (opens in a new tab)iPhone users who have Microsoft's Outlook mail app installed will start seeing pop-ups trying to convince them to open links and attachments using Microsoft Edge, rather than Safari or anything another default browser, such as Chrome.
If you don't have Edge installed, which most iPhone users probably don't, there's a page to download and install Microsoft's browser.
You can choose to open links and documents using your default choice, although having to select your default choice type negates the point of doing something by default. You can also set it to "remember" your choice so you don't have to do it again. However, you must do this for each file type.
Risky methods
Although any iPhone owner who uses Outlook rather than the default mail app is already predisposed to using Microsoft apps over Apple's, many people will be put off by Microsoft's annoyances.
Windows users may be used to Microsoft's heavy-handed attempts to get people to use its less popular services and products, such as Edge and Bing, but I can't imagine many iPhone users being impressed.
This could end up having the opposite effect than intended, with users deliberately avoiding using Edge – and possibly even uninstalling Outlook in response.
One of the fundamental problems with Microsoft's attempts is that, rather than creating a product that captures people's imaginations and makes them want to use it, it instead uses its other most popular products as trojans to try to boost its less popular products.
This may sound harsh, but to be honest, I'm a bit sick of being nagged by Microsoft for using Edge, despite my preferred web browser clearly being set as default in Windows 11.
In the screenshot Windows Latest showed of the pop-up window in Outlook, Microsoft does not explain why a user should use Edge rather than their default choice.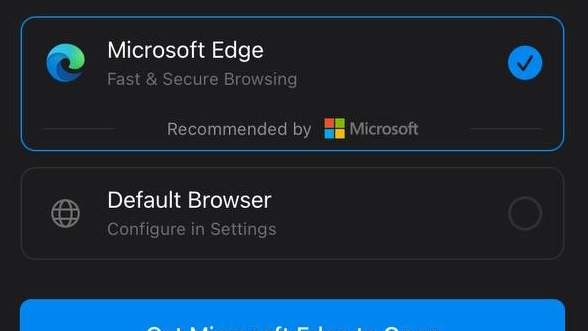 By spending more time selling the benefits of Edge to users (it is, after all, one of the best web browsers), rather than trying to sneak it onto systems in some other way, Microsoft would have much better chance of convincing people.
The hype surrounding Bing's new AI-powered search has seen Bing's organic interest and usage grow – even the Bing app on iOS making a rare appearance at the top of the App Store downloads chart . It shows that when Microsoft demonstrates how its products are different, or even better, than its competitors, people will happily try them.
However, forcing them on people won't have the same effect, and I hope Microsoft learns that lesson soon.