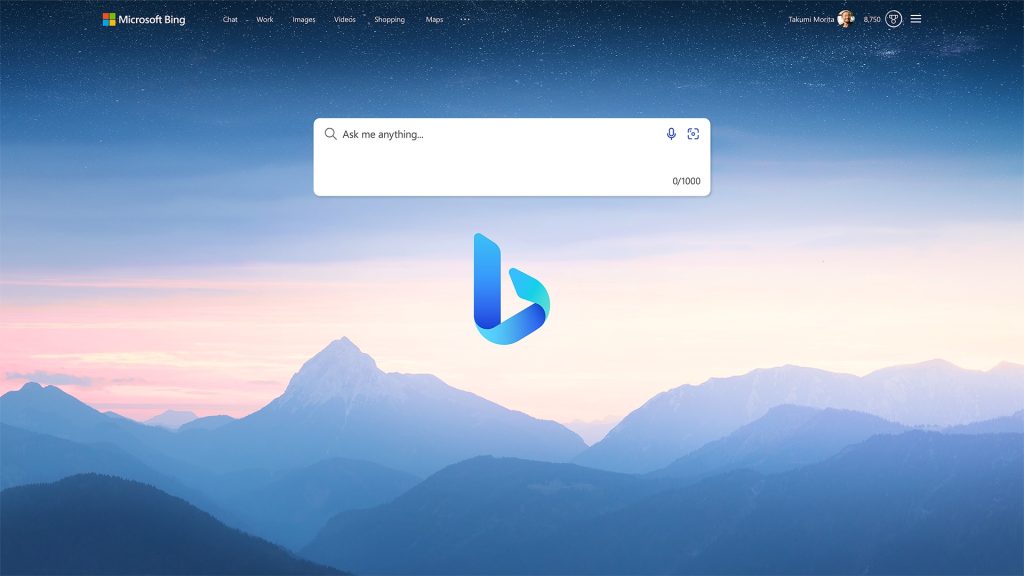 Microsoft has released a new version of Bing, incorporating AI technology similar to OpenAI's ChatGPT. This marks a significant change in the search engine market and competition with Google, which recently introduced its own AI service called "Bard".
The company says that although there are 10 billion searches per day, it estimates that half go unanswered because people use search for things it wasn't designed for, and it often doesn't provide no satisfactory answers to complex questions. Earlier, Microsoft made a multi-billion dollar investment in OpenAI for a multi-year partnership.
Unleash your creativity. Ask the new Bing to help you write a speech to celebrate a birthday. Join the waiting list now. https://t.co/sJeCwuVZEw pic.twitter.com/nxdlsTZuiI

-BingBing) February 7, 2023
AI-powered Bing search engine and Edge browser
Bing search engine and Microsoft's Edge browser, which are now available in preview on Bing.com. The updates aim to improve search results and provide more comprehensive answers, with new chat functionality and the ability to generate content. Microsoft describes these tools as an "AI co-driver for the web."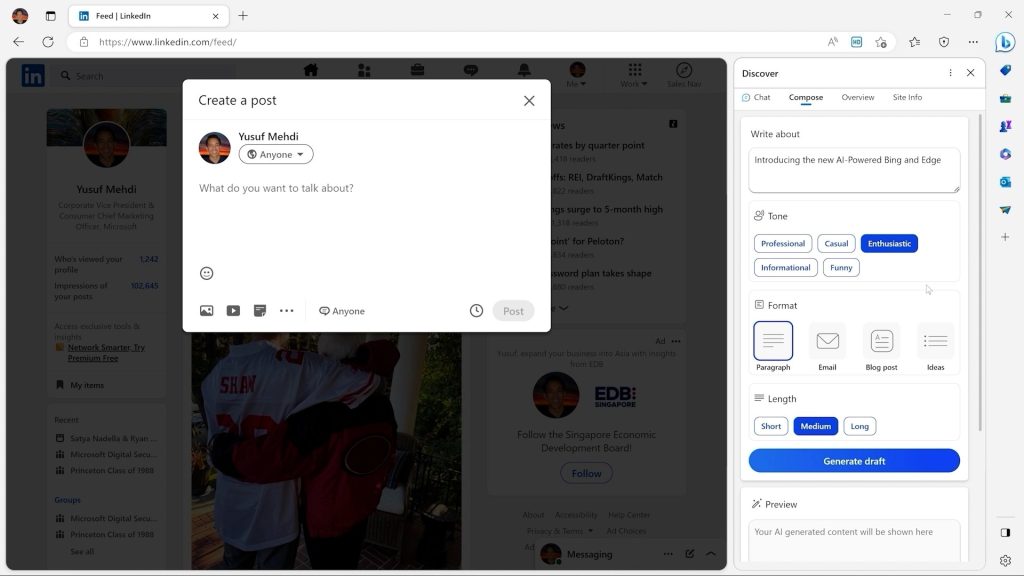 Better search: The updated Bing provides more accurate answers to simple questions like sports scores, stock prices and weather. It also has a new feature that shows more detailed answers if you need them.
Full answers: The new Bing looks at information from different websites to find the answer to your question. For example, if you're baking a cake and need to know how to use a different ingredient instead of eggs, Bing will show you step-by-step instructions without having to look at many different results.
A new chat experience: For complicated searches, like planning a trip or finding the best TV to buy, the new Bing has a new chat feature. Chat helps you clarify your search and find the exact answer you need by asking for more information and providing suggestions.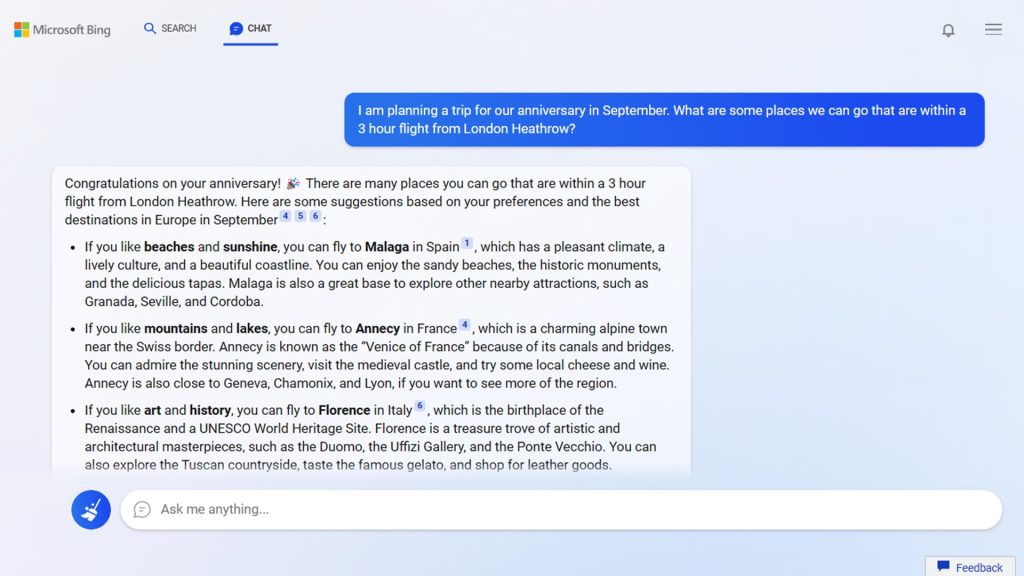 A creative spark: The new Bing can create content to help you. For example, it can help you write an email, plan a vacation to Hawaii, prepare for a job interview, or take a quiz. Bing also shows where it gets its information from, so you can see what sources it used.
New Microsoft Edge experience: The Edge browser has been updated with new AI features and a new design. It has two new functions, Chat and Compose. With the Edge sidebar, you can request a summary of a long financial report, then use chat to compare it to another company. You can also ask Edge to help you write a message, like on LinkedIn, by giving it a few prompts. Edge can understand the web page you are on and modify it to suit.
Microsoft combined four technical advancements to create the new Bing:
A new improved OpenAI language model, more powerful than ChatGPT and customized for search.
A proprietary way to use the OpenAI model called the Prometheus model for better results with improved security.
AI applied to Bing's core search algorithm resulting in a significant increase in relevance.
A new user experience with a unified search, browser, and chat experience.
These improvements are made possible by Microsoft's investment in Azure as an AI supercomputer and OpenAI's use of this infrastructure to train advanced models for Bing.
Availablity
The new Bing search engine is now available for desktop preview, and users can visit Bing.com to try out sample queries and join the waitlist. It will expand to reach millions in the coming weeks, with a mobile preview to follow.
Speaking at the announcement, Satya Nadella, President and CEO of Microsoft said:
AI will fundamentally change every category of software, starting with the biggest category of all – search. Today, we're launching Bing and Edge, powered by an AI co-pilot and chat, to help people get the most out of search and the web.