Everyone talks about Open AI's ChatGPT, the conversational chatbot already planned to replace Google Search. Teachers worry about students using ChatGPT to hand in written assignments, and journalists and other human workers worry about being replaced by a bot. Monday, CEO of Google and Alphabet Sundar Pichai is the author of a blog post in which he presents Google's answer to ChatGPT called Bard.
Calling AI "the deepest technology we work on today," Pichai wrote, "AI helps people, businesses, and communities unlock their potential. And it opens up new opportunities that could improve billions of lives. That's why we refocused the business around AI six years ago – and why we see it as the most important way to fulfill our mission: to organize the world's information and make it universally accessible and useful."
Bard is Google's experimental conversational AI platform

Like ChatGPT, Bard is conversational and based on the Google Language Model for Chat Applications (LaMDA). It will be available for use by trusted testers before Google opens it up and makes it more widely available to the public.
Pichai explains where Bard will get his information from and more, writing, "Bard seeks to combine the breadth of knowledge of the world with the power, intelligence, and creativity of our great language models. It draws on the information from the web to provide new insights and Bard can be an outlet for creativity and a launch pad for curiosity, helping you explain discoveries from NASA's James Webb Space Telescope to a 9-year-old, or learn more about the best strikers in football right now, then get drills to develop your skills."
Google says it will launch Bard with a stripped-down version of LaMDA that requires less computing power, allowing more users to try it out, giving Google more feedback. Google will combine this feedback with its own internal testing to ensure that Bard exceeds "the high bar for quality, security, and grounding in real-world information." During this phase, Google will seek to increase the speed and quality of Bard.
And while ChatGPT is considered a replacement for search, Google is using its artificial intelligence capabilities to improve search. Pichai points to the change in Google search queries that helps users get the answers to the questions they want to ask deep within. "When people think of Google, they often think of turning to us for quick factual answers, like 'how many keys does a piano have?'"
Google will add AI capabilities to search

The executive continues: "But increasingly, people are turning to Google for more in-depth information and understanding, for example: 'Is piano or guitar easier to learn, and how much practice each need?" Learning about a topic like this can take a lot of effort to figure out what you really need to know, and people often want to explore a wide range of opinions or perspectives." Eventually, Google will offer tools and APIs that will allow others to develop informative apps with Bard's AI capabilities.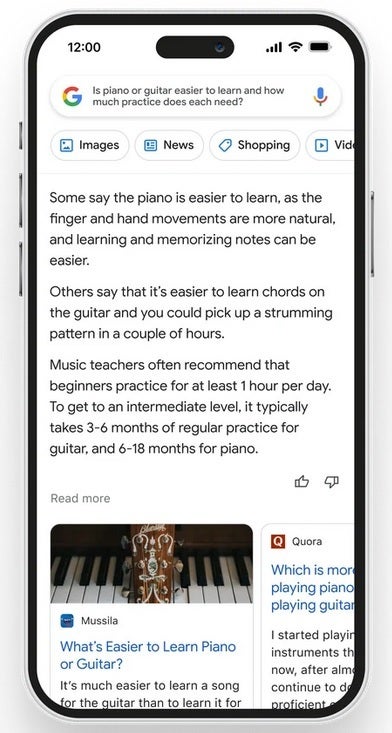 Google will soon add AI capabilities to its search app
But soon, Google plans to add artificial intelligence features to search that will transform complex information from different sides of the story into "easy-to-digest formats." You will be able to understand the big picture and learn more from the internet. Pichai says new AI features will soon be available on Google Search. The idea is to create new ways for users to take advantage of the information they receive from Google search, whether the search response is video, sound, images or language.
The Google CEO promises that when it comes to AI, he will be "bold with innovation and responsible in our approach". The exec hinted that we'll see Bard begin to make its mark on Google Search and other Google apps "in the weeks and months to come."