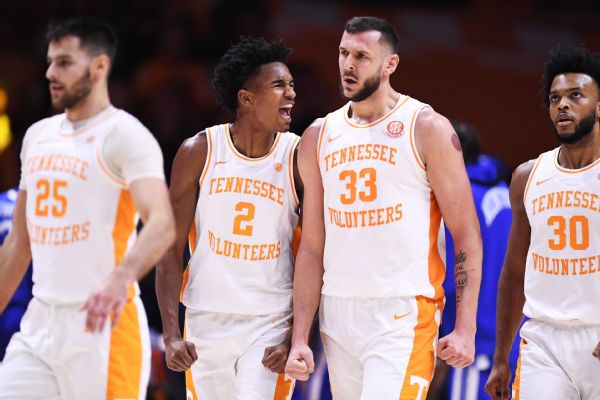 The day before Kentucky's 63-56 victory over No. 5 Tennessee on Saturday, Wildcats coach John Calipari took his team's electronics.
"Do you know what we did last night?" Calipari said after the match. "I didn't just get the phones, I got the iPads and everything. And all I told them was we'll get after that tomorrow. You're going to have a good night's sleep and you don't look at anything."
That game was the start of a chaotic Saturday, when 11 ranked teams lost in a single day, tying an AP poll record dating back to Jan. 29, 2011, according to ESPN Stats & Information research.
Nine of the 11 teams that lost on Saturday were on the road. And two of them faced ranked opponents.
Saturday, No. 5 Tennessee, No. 9 Arizona (87-68 at Oregon), No. 11 Kansas State (82-68 at No. 17 TCU), No. 14 Iowa State (62-60 at No. 2 Kansas) , No. 15 Arkansas (97-84 at Vanderbilt), No. 16 Miami (83-81 at NC State), No. 18 Wisconsin (63-45 at Indiana), No. 19 Providence (73-67 at Creighton), No. 20 Missouri (73-64 at Florida), No. 23 San Diego State (76-67 at New Mexico) and No. 24 Duke (72-64 at Clemson) all lost.
Some of those losses have impacted ongoing conference races. Wisconsin has now lost three straight Big Ten games after a 3-0 start. Arizona fell to 4-3 in the league, a significant distance from a first-place UCLA team that is 7-0. Providence (6-1) now sits in second place behind first-place Xavier in the Grand Est. And Clemson is in first place at 7-0 in the ACC, well ahead of a Duke team that is now 4-3 in the league in Jon Scheyer's first year as head coach.
"Great environment, great opportunity for us and I know clearly it meant a lot to them," Scheyer said after his team's loss to Clemson on Saturday. "[Clemson] played well. Especially in this second half, I think they got into our paint too easily. From one end of the course to the other, I thought it was a great game. Both teams struggled to shoot. Disappointed for our guys, I thought we were ready to play, we thought we were fighting, we thought we were there. … Disappointed for our guys, and we have to learn and grow."
Ranked teams continued to fall on Sunday as No. 6 UConn lost for the fourth time in its last five games, losing an 85-74 result to unranked St. John's. In another game against Big East, 12th-placed Xavier beat No. 25 Marquette 80-76.
Those two ranked team losses made 13 for the weekend, tying the record for most ranked team losses in a weekend. This is the fourth time (1999, 2000, 2011) that 13 ranked teams have lost in a single weekend. It's also the second time that at least 10 ranked teams have lost to unranked teams in one weekend in AP polling history.