[ad_1]

Product recommendations in this article are recommendations of the author and/or interviewed experts and do not contain affiliate links. Meaning: If you use these links to buy something, we won't earn any commission.
When entering a Trader Joe's, you will inevitably come across an item that you have not encountered during previous purchases. Whether it's a seasonal treat or a holiday treat, the neighborhood grocery chain keeps its ever-changing line of products unique, exciting, and above all, delicious.
Over the past month, several new TJ items have been spotted on store shelves, and shoppers have been vocal. Here's a look at some of the latest food options that Trader Joe fans have been cheering on on social media.
TJ's latest non-dairy frozen treat features a coconut base with a ripple of yuzu, the citrus fruit of East Asia. The new item, priced at $4.49 a pint, has garnered plenty of fans, with one Instagrammer writing, "Tastes like summer 😍."
Meanwhile, one Reddit user went so far as to say that the vegan dessert is "[b]better than any ice cream I have ever eaten in my life. If I had to reject all the ice cream, popsicles and all other frozen treats in the world, I would do it for an endless, lifetime supply of this stuff."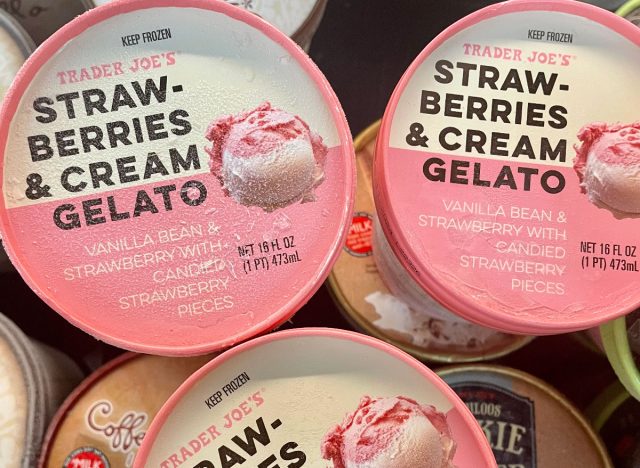 The new Strawberries & Cream Gelato also resides in Trader Joe's freezer aisle. Available for a limited time for $3.49, the sweet treat consists of strawberry vanilla bean ice cream with candied strawberry chunks.6254a4d1642c605c54bf1cab17d50f1e
"Omg this is dangerous I eat it all in one seat 😋😋," one Instagram user commented on a post by @traderjoesobsessed. Others have recommended boosting the strawberry flavor by topping the ice cream with strawberry jam or pureed fresh strawberries and a sweetener.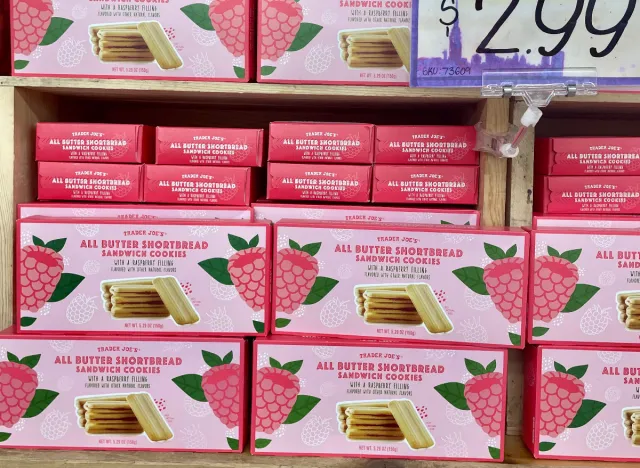 In other bay good news, TJ's has just released a new raspberry-filled shortbread cookie. Each box costs $2.99 ​​and it's fair to say that many shoppers are raving about this product.
"I love them. They taste like raspberry linzer cookies," one person commented on a recent @traderjoeslist post. Other users pointed to Trader Joe's previous raspberry jam filled cookies in their comments, with one person writing, "These raspberry heart/star cookies are already tempting and now this. 💀❤️"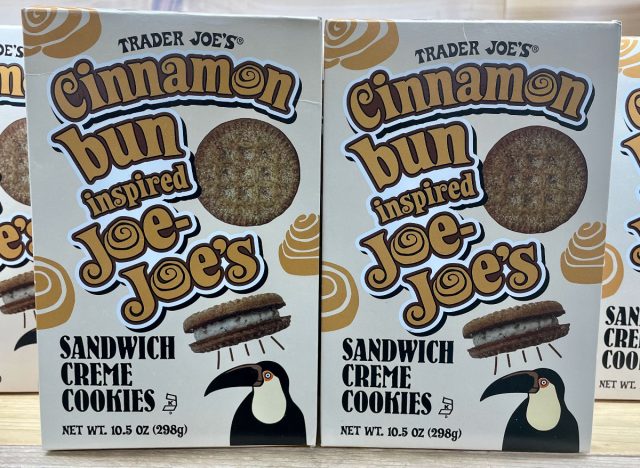 If you went to Trader Joe's and didn't get a box of Joe-Joe's, did you really go to Trader Joe's? The grocery chain recently launched its latest limited-time cookie flavor for $3.49. The new sweet item features a layer of vanilla cream sandwiched between two cookies sprinkled with cinnamon sugar.
While some Instagram users described the cookies as 'addictive', 'ridiculously good' and 'amazing', one shared, 'They kind of remind me of 90s dunkaroos 😂.
If you're a fan of ginger, these crispy bites are for you. Priced at $2.99 ​​a bag, Trader Joe's Triple Ginger Pretzels include "tiny-tiny" pretzels covered in a ginger candy coating and topped with crystallized ginger and the grocery chain's gingerbread cookies.
One Instagrammer, who tried the new snack in-store, said he was "pleasantly surprised" and "loved them", while another wrote that the pretzels might be one of their "favorite items".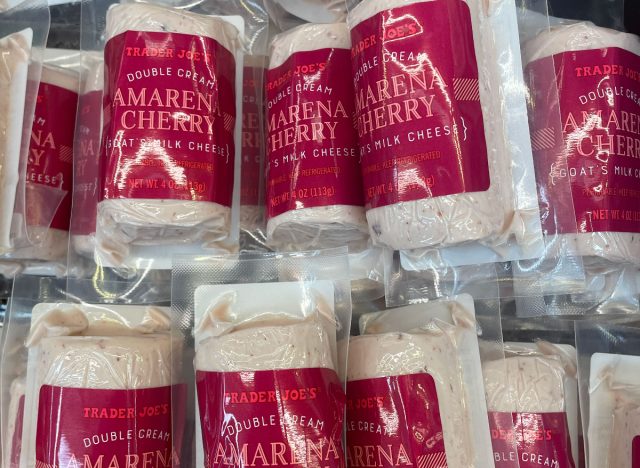 Trader Joe's is giving goat cheese a fruity twist by incorporating cherries into this variety, which is available now for $2.99.
Among the countless positive reviews on social media, several users shared how to eat the new cheese. This included adding it to a salad, spreading it on cinnamon graham crackers, Trader Joe's Fig and Olive Crisps, Raisin and Rosemary Crisps, and Naan Crackers.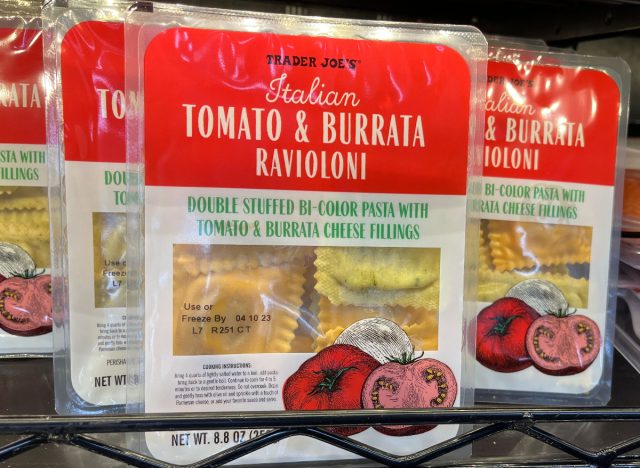 Like ravioli, but bigger. This two-toned, double-stuffed pasta is filled with tomato and burrata cheese for $3.99. After @traderjoeslist asked his followers what sauce they would add to ravioli, many Instagram users flocked to the post's comments section to offer their suggestions.
"Restaurant quality is good! I made garlic, olive oil, parmesan and a little balsamic glaze," one person shared. "Pesto or Roasted Red Pepper Sauce!" another intervened.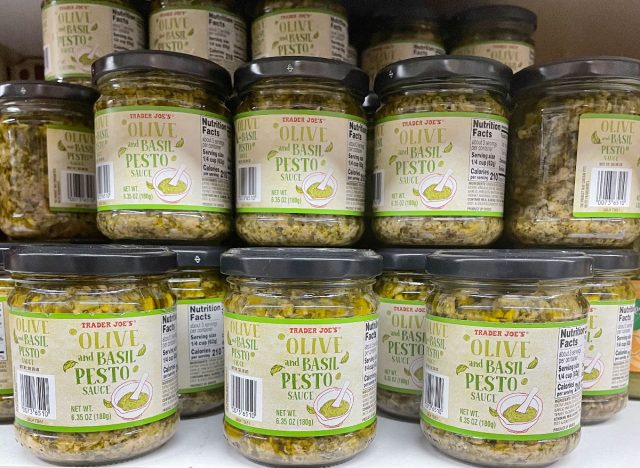 For a twist on the traditional pesto, TJ's latest variety, priced at $2.49, fuses elements of the beloved pasta sauce with tapenade. Last week, @traderjoeslist wrote that the new product "would taste amazing on a chicken sandwich, on a charcuterie board, or with plain pasta," and asked for additional recommendations.
One user commented, "Pesto scrambled eggs are where they are 🤤", while another suggested, "Pizza Margherita! I use naan bread when I don't have pizza crusts under the Add pesto, fresh slices or shreds of mozzarella and good quality tomatoes, maybe parmesan too.
Trader Joe's has once again expanded its selection of seasonings, but this time it's turned one of the most popular hot sauces into a powder, now available for $2.99. While the product label recommends using the seasoning mix on noodle, meat, tofu, soup and egg dishes, social media users have come up with their own suggestions.
In the comments section of a recent Instagram post, users suggested sprinkling the new seasoning on popcorn, fries, roasted vegetables, baked potatoes and edamame with oil. of sesame.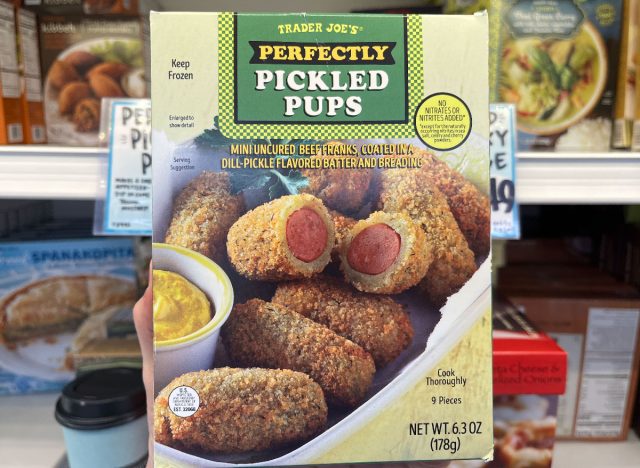 Pickles and pigs in a blanket come together in a food mashup. This new frozen item, available for $4.99, features uncured beef mini franks that have been coated in a dill pickle-flavored batter and breading.
While some expressed that the product could use more pickle flavor, others had no criticism. "These are 10 out of 10 in the air fryer! Mad!"wrote an Instagram user.


[ad_2]
Source