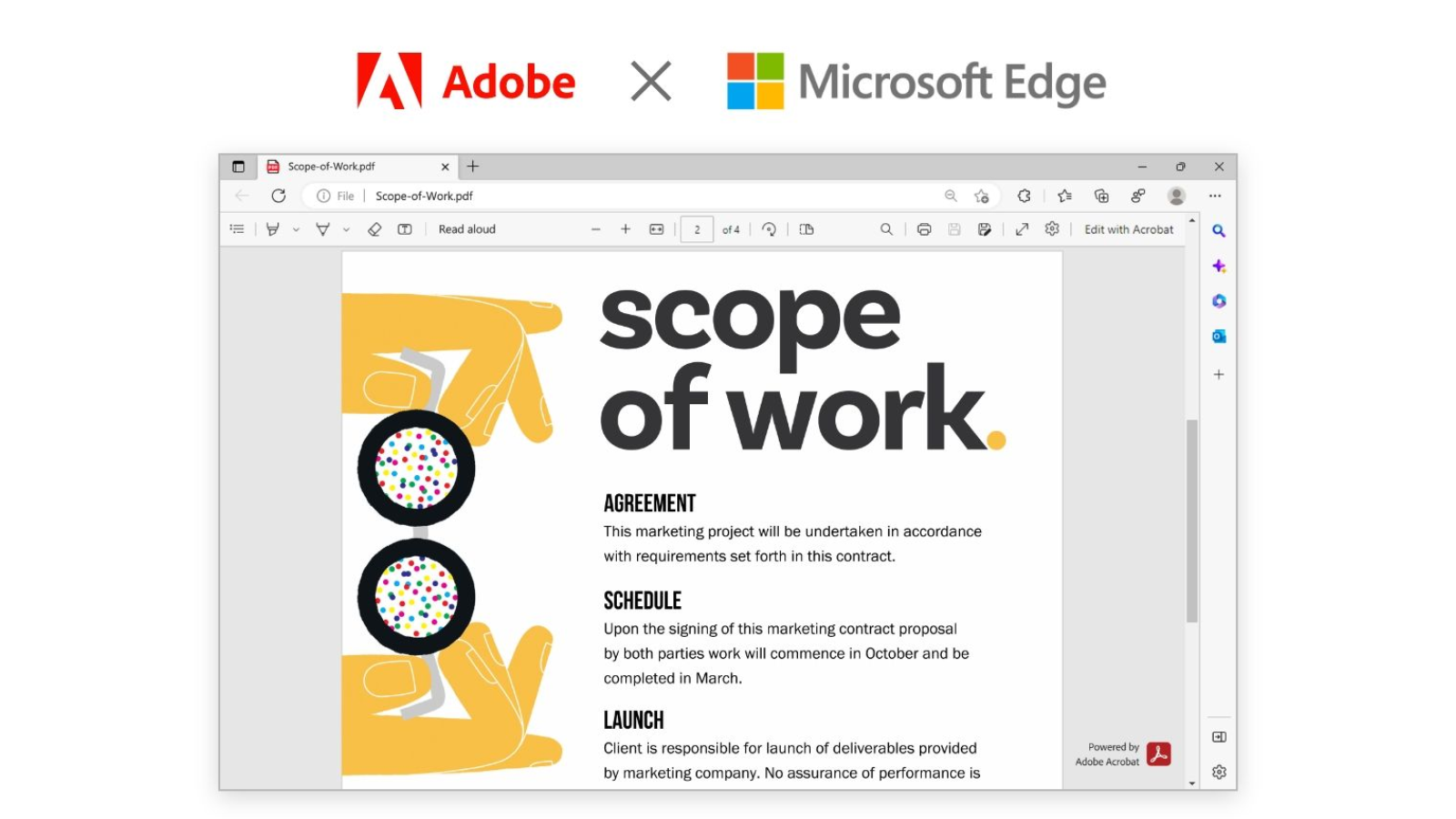 The Adobe and Microsoft cozy-up continues with the upcoming integration of Adobe Acrobat technology within Microsoft Edge.
Users can already use the browser as free pdf reader, albeit with limited features. However, the tool is set to get a performance upgrade as it will soon be powered by Acrobat's PDF rendering engine.
In a startling display of commitment to web-based collaboration, the partnership claims to bring significant improvements to the Windows PDF Reader – at no additional cost for existing capacities.
Acrobat on Edge: What to expect
In a joint press release (opens in a new tab), Microsoft and Adobe said the combination of Edge and Acrobat will enable "richer rendering" for graphics and color accuracy. Improved security and accessibility tools such as text selection and narration aloud are also expected.
More advanced PDF editor the tools remain locked behind a Adobe Document Cloud subscription. However, the Adobe-Microsoft initiative means subscribers can still use the browser to manage all document-related tasks through the Acrobat extension.
Ashley Still, senior vice president of Adobe, released the following statement:
"PDF is essential for modern businesses, accelerating productivity in a world where automation and collaboration are more critical than ever. By bringing the global standard for the PDF experience to Microsoft Edge and the over one billion Windows users worldwide, Adobe and Microsoft are using their shared productivity heritage and expertise to take a significant step forward. making modern, secure and connected work and life a reality."
"Adobe's PDF technology in Microsoft Edge means users will have fast and secure access to critical digital document features," added Jared Spataro, corporate vice president for modern work and business apps at Microsoft.
The rollout is expected to be phased, starting with an opt-in option for managed devices. But what about Microsoft's existing PDF reader? This is expected to be removed, with support ending in March 2024.
Best Free PDF Editors

(opens in a new tab)

: View, create and edit PDFs on Windows, Mac, mobile and online